Safety Tips
We have instituted many programs at UNM to ensure your safety while on campus, but safety really begins with you. The following are some tips to help protect you from crime: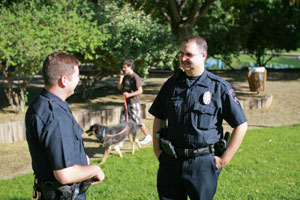 Avoid walking alone at night. Make arrangements to walk in groups and in well-lit areas.
The UNM Police department offers escort services to anyone needing an escort from an on-campus location to another on-campus location 24 hours, 7 days a week. We do not give off campus escorts. Call 277-2241 for more information. 
Walk purposefully, look confident and trust your instincts. Be aware of your surroundings and don't be distracted by cell phones, iPods or other electronics.
If you need help, use one of the blue light emergency assistance phones located throughout campus.
Never leave your property unattended in public places.
Lock all doors and close all windows when leaving your dorm or car, even if you're only going to be gone for a short time.
Remove anything from your car that may look valuable to a thief.
Have keys ready when you approach your car. Check the car for intruders
before entering and lock your door immediately after getting into your car.
Secure your bike or motorcycle when leaving it unattended. Use the U-shaped high security lock whenever possible.
Never post private or compromising information to social networking sites.
Enroll in "LoboAlerts" to receive important safety notifications in the event of a campus emergency. 

If you are a victim of a crime or witness any crimes or suspicious circumstances, call UNM Police (505-277-2241) immediately.
Campus Safety Bookmark
Stop by the Dean of Students Office to get a copy this bookmark or print your own.