Campus Safety Week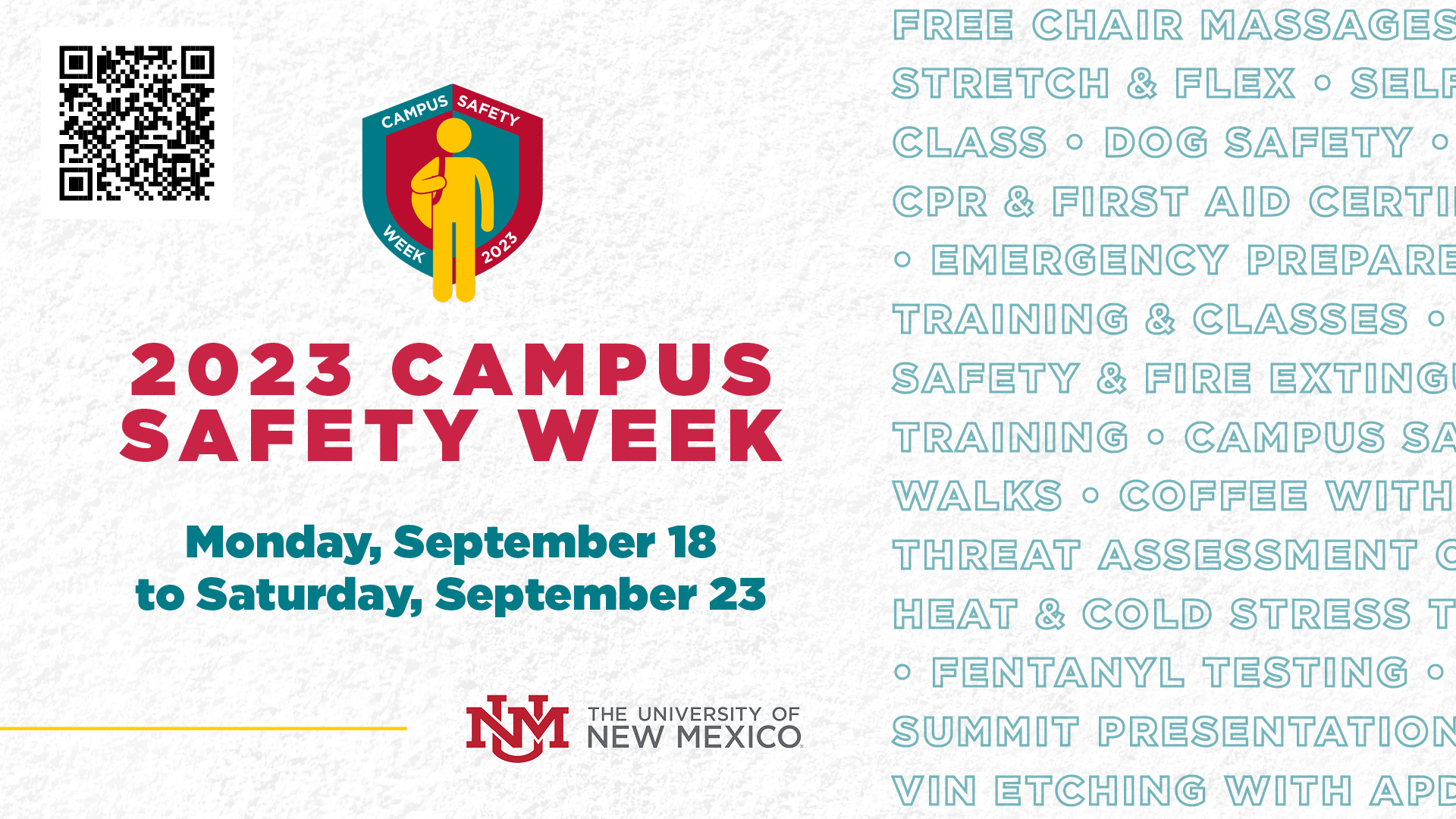 Campus Safety Week is a time when the UNM Community comes together to observe National Campus Safety Awareness Month (NCSAM), held every year in September. Workshops and other activities held throughout the week are designed to bring more awareness and education to safety- and security-related topics that affect UNM students, faculty, staff, and the larger community of which UNM is a part.
Use hashtags #NCSAM2023 and #CampusSafety and follow CEEO on Facebook and Instagram for safety and crime prevention tips CEEO and our partners will be posting throughout September.
The dates for this year's Annual UNM Campus Safety Week are: Monday, September 18 – Saturday, September 23, 2023
If you would like to host an event or other activity during this year's Safety Week, please contact Adrienne Helms, Clery Coordinator, at ahelms6@unm.edu or 505-277-5251.
  ***All events are subject to change. Check back for more to come!***
 For in-person events, please adhere to guidance and information at bringbackthepack.unm.edu. 
2023 Safety Week Events 
Mon 9.18

   10 AM - 2 PM

   Annual Safety Week - Kick-off

   SUB Atrium & Ballroom C - Map

Come join us as we kick off the Annual Safety Week in the Student Union Building from
10 AM - 2 PM. 

Currently, the following events are currently scheduled:

10:00 - 11:30 AM - Cuddle a Canine 
10:00 - 10:30 AM - Morning Stretch and Flex with HR's Wellness Group
10:00 - 12:00 PM - LoDo Chair Massages
10:30 - 11:30 AM - Self-Care Course from AGORA

There will be more booths in the Atrium, highlighting departments that help keep UNM safe, as well as cookies and refreshments!

Downloads for Sharing

More info:  Adrienne Helms

 

 

Tues 9.19

6:30 - 9 PM

Annual Safety Walk - Main Campus

SUB Ballroom B - Map

Do you want to help make UNM's campus a safer, healthier place? You CAN by joining us for the 8th Annual Campus Safety Walk on Main Campus! This event is a terrific opportunity to get some steps in after dark with other Lobos. We'll be counting on you to help identify areas in need of better lighting, pruning, and more. Check out the 2022 Campus Safety Walk video to see last year's participants in action!

Come prepared!

Download the Ramblr app to your smartphone before the event and use it to track your progress:

https://www.ramblr.com

This event is family-friendly and ALL ARE WELCOME so bring a friend (or ten)! Doors open at 6:30 PM for refreshments, a safety briefing, and supplies.

Download for Sharing

More info:  Adrienne Helms

 

 

   10 AM - 5 PM

   Personal Safety Courses and Emergency Preparedness

   SUB Ballroom C & SUB Atrium - Map

Come join us in the SUBs Atrium and Ballroom as we host classes on Personal Safety and Emergency Preparedness, including:

11:30 AM - 1:30 PM - Emergency Preparedness Training from Emergency Management and EHS
1:30 - 3:00 PM - Suicide Prevention Training from Agora
4:00 - 5:00 PM -

Walking and Working Surfaces & Building Safety

 from EHS

During this time, we will also be setting up for the Annual Safety Walk hosted on Main Campus, so come and join! 

More info:  Zachary Peterson

 

 

Wed 9.20

10 AM - 1 PM

Coffee with Our Cops

Happy Heart Bistro (1001 Stanford Dr NE) - Map

Grab a cup of joe, have a snack, and get to know the officers at UNMPD who keep our campus safe year-round!

More info:  Detective Tish Young

 

 

12 - 1 PM

Suicide Awareness Training - Child Loss, Grief, and Hope

Zoom - Meeting Link

Come join Desiree Woodland, retired teacher and founder of "Breaking the Silence NM", as she leads an interactive quiz /discussion about mental illness and suicide, and share a portion from her survivor story called Child Loss, Suicide Grief, and Hope.

1 - 4 PM

Health Sciences Threat Assessment Team Training

Domenici Auditorium - Map

Join us for Threat Assessment training presented by the National Threat Evaluation and Reporting Office (NTER) of the U.S. Department of Homeland Security. Students, staff, and faculty will learn general information about Threat Assessment at UNM, how individuals should report suspicious activities, and how the process plays out.

Interactive opportunity for IPE Honors.

This event is limited to 300 people. Register online to secure your seat.

Downloads for Sharing

More info:  Byron Piatt

 

4 - 5 PM

Walking/Working Surfaces & Building Safety

HSC Collaborative Shade Structure (Upper Plaza) - Map

Join us at the HSC Collaborative Shade Structure for an overview training on "Walking and Working Surfaces and Building Safety" that will equip you with the knowledge and skills to navigate your environment securely. EHS will guide you through the intricacies of building safety, covering a wide range of crucial topics. From understanding the principles of risk assessment to mastering the art of hazard recognition, this training program offers a holistic approach to creating safer environments. Some of the topics will include:

Identifying potential impacts, assessing their impact, and mitigating risk, 
Walking on different surfaces, anywhere from slippery floors to uneven terrain, 
Building codes and regulations, and
General PPE overviews

During this time, we will also be setting up for the Annual Safety Walk hosted on HSC, so come and join! 

More info:  Zachary Peterson

6:30 - 9 PM

Annual Safety Walk - North Campus

HSC Collaborative Shade Structure (Upper Plaza) - Map

Join us at the HSC Collaborative Shade Structure at 6:30 for refreshments before we start our walk at 7 PM. There will be a safety briefing and flashlight distribution (limited supply - encouraged to bring your own). Everyone is welcome!

Interactive opportunity for IPE Honors.

Downloads for Sharing

More info: Carlotta Abeyta

 

 

 

Thurs 9.21

10 AM - 12 PM

Coffee with Our Cops

SUB Atrium - Map

Grab a cup of joe, have a snack, and get to know the officers at UNMPD who keep our campus safe year-round!

More info:  Detective Tish Young

 

 

10 AM - 2 PM

Personal Safety Courses and Ambulatory Care

SUB Atrium & Ballroom B - Map

Come join us in the SUBs Atrium and Ballroom as we host classes on Personal Safety and Ambulatory Safety, including:

10:00 AM - 2:00 PM - Ambulatory Safety and Q&A from Albuquerque Ambulance
10:00 AM - 2:00 PM - Fire Rescue Q&A from Albuquerque Fire Rescue
11:00 AM - 12:00 PM - Naloxone & Fentanyl Testing Strip Training from COSAP

During this time, we will also have booths in the Atrium from various departments, as well as cookies, refreshments, and free Paletas (while supplies last), so come and join! 

More info:  Randall Starling & Zachary Peterson

 

11 AM - 12 PM

Naxolone & Fentanyl Testing Strip Training 

SUB Ballroom B - Map

Sponsored by (COSAP).

Downloads for Sharing

More info:  Dr. Randall Starling

 

 

12:30 - 3 PM

SUB Ballroom B - Map

Join us for a Campus Safety Summit during this year's National Campus Security Awareness Month and UNM's Campus Safety Week.

The University of New Mexico's Safe Campus Living Task Force is proud to host this event to raise awareness about the safety initiatives on UNM's Albuquerque Campus and facilitate a discussion among campus community members like you.

 

***CLICK HERE TO JOIN THE CAMPUS SAFETY SUMMIT LIVESTREAM!***

 

Please RSVP to Adrienne Helms (ahelms6@unm.edu) by Wednesday, September 13th, if you plan to attend.

More info:  Adrienne Helms

 

 

 

1:30 - 2:30 PM

QPR Suicide Prevention Training - Daytime Session

Zoom - Registration Link

UNM HSC's Wellness Consortium is proud to host this exhibition to raise awareness about suicide and suicide prevention, to share important resources, and to spread hope to people affected by suicide. QPR is the most widely taught suicide prevention training in the world and is proven effective. 

QPR stands for Question, Persuade, Refer. Like CPR, QPR is an emergency response protocol to help someone in crisis. These are three simple, but powerful steps. Learn how to use them properly and you can save a life from suicide.

QPR training participants will learn from a team of Certified QPR Gatekeeper Instructors:

How to use the Question, Persuade, Refer technique
Common suicide myths and facts
Warning signs and clues that someone is considering suicide
Tips for approaching the topic of suicide
How to get a person considering suicide the help they need

More info:  Jason Stafford & Leah Adent

 

 

7 - 8 PM

QPR Suicide Prevention Training - Nighttime Session

Zoom - Registration Link

UNM HSC's Wellness Consortium is proud to host this exhibition to raise awareness about suicide and suicide prevention, to share important resources, and to spread hope to people affected by suicide. QPR is the most widely taught suicide prevention training in the world and is proven effective. 

QPR stands for Question, Persuade, Refer. Like CPR, QPR is an emergency response protocol to help someone in crisis. These are three simple, but powerful steps. Learn how to use them properly and you can save a life from suicide.

QPR training participants will learn from a team of Certified QPR Gatekeeper Instructors:

How to use the Question, Persuade, Refer technique
Common suicide myths and facts
Warning signs and clues that someone is considering suicide
Tips for approaching the topic of suicide
How to get a person considering suicide the help they need

More info:  Vanessa Roybal & Adrianne Tenorio

 

 

 

Fri 9.22

2 - 6 PM

CPR/AED/Basic First Aid Course - Adult/Child/Infant

UNM University Club - Map

Join the UNM HEaRT Program at the University Club as experienced instructors will guide you through hands-on training, teaching you how to administer CPR, use automated external defibrillators (AEDs), and help you respond to medical emergencies such as:

Seizures, 
Severe allergic reactions, and
Choking relief

Whether you're a concerned parent, a healthcare professional, or simply someone who wants to make a difference, UNM HEaRT is here to walk you through the process of administering aid when a situation calls for it.

Sign-ups are requested before the date, and tuition remission is fully accepted.

More info:  UNM HEaRT Program (505.272.8364)

 

 

Sat 9.23

9:30 AM - 2:30 PM

Free VIN Etching Event - Help prevent auto theft!

Student Support & Services Center - Map

Vehicle Identification Number (VIN) etching is a fast, safe, and simple process of having a vehicle's VIN engraved onto its windows using a chemical solution. Once the VIN has been etched on all the windows, a thief must strip and replace every piece of glass in order to profit off the sale of the stolen vehicle or its parts. Doing so is a time-consuming and expensive feat, which deters many thieves from stealing VIN-etched vehicles in the first place. It's one of the most effective means to deter auto theft currently available. CEEO has teamed up with the Albuquerque Police Department (APD) to offer this auto theft prevention service to all members of UNM and the public for FREE.

The event will take place in the parking lot of the Student Support and Services Center located at 1155 Avenida Cesar Chavez SE, Albuquerque, NM 87106 (map).

Downloads for Sharing

More info: Adrienne Helms