Campus Safety Week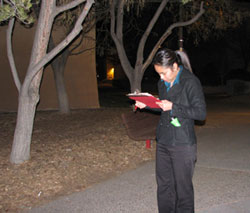 Safety Week is a week designed to provide programs for our UNM Community during Campus Safety Awareness Month (September) that will bring more awareness and education about safety related topics on UNM's campus.
This years 5th Annual UNM Campus Safety Week will be held from September 14th - September 18th, 2020.
Safety Week Schedule
Monday, Sept. 14 – Identity Theft Presentation, (Online) 5 – 6 p.m. Will cover safety in social media, electronic devices and credit. This event is geared toward students.
https://unm.zoom.us/j/93408890218
Tuesday, Sept. 15 – Siren test at 11:02 a.m. The siren is part of a campus-wide system that provides safety, security, and weather alerts.
Tuesday, Sept. 15 – Safety Walk Main Campus, 8-9 p.m. This event provides an opportunity for participants to evaluate the safety of UNM's Campus is after dark. Participants will look for lighting issues, tripping hazards, and other unsafe conditions that individuals might encounter at night. Students, faculty, and staff are invited.
Friday, Sept. 18 – Safe Zone Training (online) 10 a.m. - noon. "U Got This" is your guide to speak up, step in, and create a safer campus for all. The training is an online, interactive, three-part educational program that converts interpersonal violence prevention mandates into a truly relatable and engaging experience for students. With strategic use of humor and colloquial language, the program frames the broader issue of what it means to be an "upstander" in both challenging corrosive norms and sticking up for vulnerable people. To sign up, please go to:
https://docs.google.com/forms/d/1HwJGVaRolpO_vpTr49KyZ0nELOuMLTm_uyNjsORMZF8/edit?fbclid=IwAR0lqcinvq1NL1WHL-oyHnRe8scWY_5pXl6ektF23LwApH8amhiDHBbiGYs