Campus Safety Week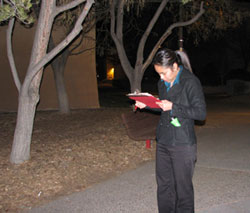 Campus Safety Week is a time when the UNM Community comes together to observe National Campus Safety Awareness Month (NCSAM), held every year in September. Workshops and other activities held throughout the week are designed to bring more awareness and education to safety-related topics that affect UNM students, faculty, and staff, and the larger community of which UNM is a part.
The dates for year's 7th Annual UNM Campus Safety Week are:
Monday, September 19th – Friday, September 23rd, 2022
If you would like to host an event or other activity during this year's Safety Week, please contact Adrienne Helms, Clery Coordinator, at ahelms6@unm.edu or 505-277-5251.
Safety Week Schedule 2022
Monday, Sept. 19
TBA 
Tuesday, Sept. 20
Safety Walk - Main Campus
7:00 PM - 9:30 PM UNM
Kickoff location: TBA
Wednesday, Sept. 21
 TBA 
Thursday, Sept. 22
Safety Walk - North Campus 
7:00 PM - 9:30 PM
Kickoff location: TBA
Friday, Sept. 23
TBA
For in-person events, please adhere to guidance and information at: bringbackthepack.unm.edu