Campus Safety Programs
UNM offers several crime prevention programs designed to keep you safe. Services are available free of charge.
Access To Campus Facilities:
We strive to make our campus safe by limiting access to buildings after hours. Persons authorized to remain in a building after closing time are required to have proper identification at all times. Police and security personnel conduct frequent internal and external checks of buildings on campus.
Alarm System:
UNM operates a computerized intrusion and fire alarm system to monitor facilities throughout campus to enhance personal and building security.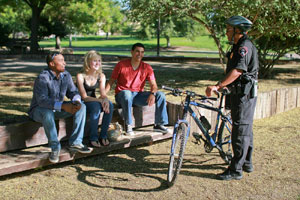 Bicycle Registration:
The UNM Police Department highly recommends that everyone operating a bicycle at UNM have it registered. Registration is free and valid for four years. Bicycle registration is available at the Police Department.
Campus Safety Walks
These safety walks engage students, faculty, staff and visitors by walking through main campus at night to look for safety related issues such as lighting, signage, or too much vegetation.
Crime Prevention Materials & Presentations
Free brochures and other documents regarding crime prevention are available at the Police Department and other campus locations. Additionally, UNM Police conducts crime prevention presentations at new student orientations and other events.
Crime Stoppers:
www.crimestoppersnm.com
Anyone who has witnessed or has information about a crime should call State Crime Stoppers at 505-843-STOP (505-843-7867).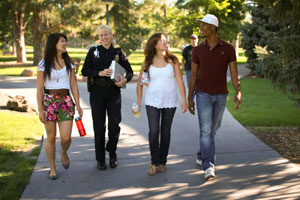 LoboAlerts:
loboalerts.unm.edu
LoboAlerts is the University's emergency text messaging system. As one piece of the multi-faceted, campus notification system, LoboAlerts provides safety and weather alerts, and notification of events that have the potential to threaten the University's ability to conduct regular activities. 
Lost and Found:
The Police Department operates the main lost and found service for the University.
Operation Identification:
We participate in the Operation Identification Program. For assistance, call 505-277-2241.
Parking and Transportation Services:
pats.unm.edu
Parking and Transportation Services provides lighted shelters at bus stops and offers a reliable shuttle bus system throughout the campus from remote parking areas. For additional information, call 505-277-1938.
Security Escort Service: 
police.unm.edu
The UNM Police department offers escort services to anyone needing an escort from an on-campus location to another on-campus location 24 hours, 7 days a week. We do not give off campus escorts. Call 277-2241 for more information. 
Victim/Witness Assistance Program:
Contact 505-841-7020.